Haiti very First Cybercafe Opened
Saturday, July 29, 2023
We celebrate a Pioneering Journey! On This Day, July 29, 1997,  we opened Haiti's First Cybercafe.
Today marks a remarkable milestone in our history as we celebrate the anniversary of a pioneering venture that forever changed Haiti's digital landscape. On this very day, July 29, 1997, At rue Rebecca in Pétionville we proudly opened the doors to Haiti's very first cybercafe.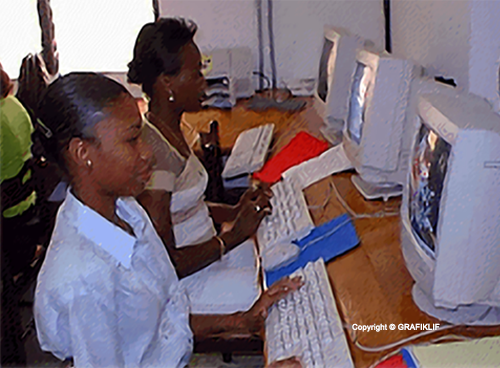 A Vision Ahead of Its Time
In an era where the digital world was just beginning to unfold its potential, we envisioned a space where people could access the internet, communicate globally, and experience the power of online connectivity firsthand. With unwavering determination, we transformed this vision into reality, igniting a new era of possibilities.
Breaking Barriers, Bridging Gaps
Opening the first cybercafe in Haiti wasn't just about providing internet access; it was about breaking down barriers and bridging gaps. It was about empowering individuals to explore new horizons, connect with the world, and grasp the boundless opportunities that the internet brings.
From Then to Now
As we look back on this momentous day, we're filled with immense pride and gratitude. Over the years, we've witnessed the digital landscape evolve, witnessed countless success stories born from these very terminals, and continued to innovate to meet the ever-changing needs of our community.
Thank You!
None of this would have been possible without the support of our community, partners, and the individuals who walked through our doors to embark on their digital journeys, like Lionel BENJAMIN and many more. Your trust and belief in us have been the driving force behind our continued growth.
Embracing the Future:
As we celebrate this anniversary, we're not just commemorating the past; we're embracing the future with renewed vigor. Our commitment to innovation, empowerment, and creating meaningful connections remains stronger than ever.
Join the Celebration
We invite you to join us in celebrating this historic milestone – a day that sparked a movement, a vision that materialized into reality. Thank you for being a part of our journey, and here's to many more years of innovation, empowerment, and transforming possibilities into realities.
« Back